Saving the Abandoned Fairborn Theatre | Fairborn Ohio | Urban Exploring (2020)
Today we're urban exploring the abandoned Fairborn Theatre located in Fairborn, Ohio. This Chakeres Theater closed 20 years ago.
The town of Fairborn was created by combining the villages of Fairfield and Osborne within Greene County, Ohio. The Fairborn Theater was the first local business to use the town's new name. The City of Fairborn is an Air-Force Community located near Wright Patterson AFB. This beautiful Ohio theatre was built in 1948. "Where There's Life " was the first film shown at this huge 1000 seat Chakeres theater. Originally built and operated as a single screen theater, in 1970 it was remodeled to have 2 screens. At this time it was renamed to the Fairborn Twin Cinema.
From 1948 until 2000 the theater was operated by Chakeres. After sitting vacant for 2 years Chakeres Theaters donated the theatre to the Fairborn Arts Organization. Over a ten-year period, the organization successfully mitigated the asbestos and removed the dividing wall. This restored the theater to its original 1000 seat, single screen, orientation. In 2005 the theatre was added as one of Ohio's Historic Sites.
After years of stalled efforts 2 friends, Jordan Terrell and Chris Morse decided to lead the fight to save the derelict Fairborn Theater. This is the mission of the newly formed Fairborn Phoenix Foundation 503c Non-Profit Organization. Both Jordan and Chris graduated from Fairborn High School and have witnessed first hand as their classmates battled opioid addiction. Jordan is a documentary filmmaker who premiered his story of 2 brothers, "HEROINOHIO," in the abandoned Fairborn Theatre. If you are looking for things to do in Fairborn, Ohio keep an eye out for upcoming events at this historic Ohio theater.
SUPPORT THE FAIRBORN PHOENIX FOUNDATION
DONATE VIA PAYPAL
Visit FAIRBORNPHOENIX.COM to collaborate, donate, or volunteer
Check out information about Jordan's film at HEROINOHIO.COM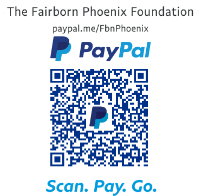 SUPPORT ONCE OCCUPIED
SUBSCRIBE TO US ON YOUTUBE
JOIN US ON PATREON
ORDER A T-SHIRT
DONATE VIA PAYPAL
FOLLOW US
OOCCUPIED ON INSTAGRAM
FACEBOOK
TikTok and Snapchat at "OnceOccupied"
PROPERTY OWNERS & REALTORS
Are you a realtor or property owner with an interesting property we would like? We can help promote your property through a video! Email us at onceoccupied@gmail.com
UNCOVERING AND SAVING HISTORICAL ABANDONED PLACES
Support your local historical societies!!! Ours are Montgomery County Historical Society, Dayton Historical Society, & Ohio History. If you are part of a historical society near us and want to collaborate email us at onceoccupied@gmail.com
SOURCES
https://www.dayton.com/news/special-reports/historic-theater-brought-dayton-area-villages-together-become-one-city/d8KHcHHvGGXZK7OonTNAUO/
https://en.wikipedia.org/wiki/Fairborn_Theatre

Support Us
We are actively working to expand by making more videos, higher quality content, and provide more history. Help support us by grabbing a shirt from our gear page, joining us on Patreon, or sending us gas money! We love making these videos and the community of wonderful people that follow us. You guys and gals rock!